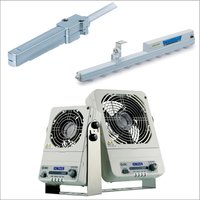 Static Electricity Elimination
Product Description
Series/CAD
Ion generation method
Ion balance
IZS31
Corona discharge type
±30 V or less
(±100 V in the case of stainless
steel electrode needle)
Features

Discharge time: 0.3 sec.
The choice of 3 types of the sensors is available.

Rapid elimination of static electricity by a feedback sensor.
Ion balance control by an auto balance sensor.
High-precision type: Accurately controls the ion balance at the workpiece position.
Main body mounted type: Can function mounted directly on the ionizer by detecting current returning to ground.

A suitable electrode cartridge can be selected depending on the application.

Rapid elimination of static electricity type places emphasis on discharging speed.
Low maintenance type for improvement of the maintenance cycle.
Contact Us
D-107 To 112, Phase-II, Noida, Uttar Pradesh, 201305, India
Phone :+918068341358